Chasing the favourite until a winner
Description
An interesting trigger to try, preferrably in test mode. The trigger will back the favourite. If the favourite changes it will back the new favourite, and continue to do this until the end.
As you know, prices jump up and down very frequently during the In-Play, try this trigger to see what happens when you're chasing the favourite.
An illustration is below:






At the end of the race: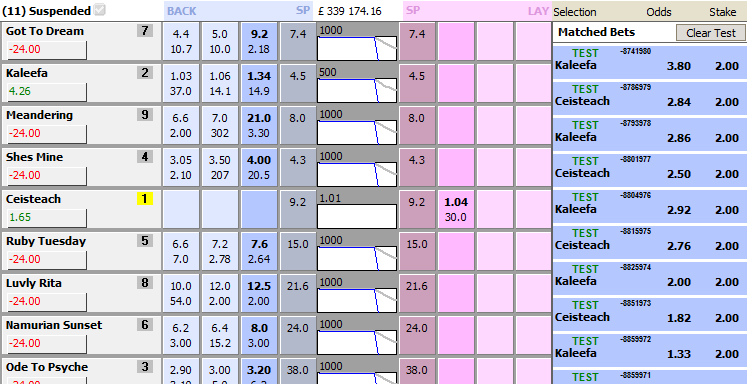 Triggers
A high market refresh rate, for example 0.3, is recommended.
There are the following constants in the file:
rank - the rank of the selections you want to bet on. The default is 1, i.e. the favourite, but you may change it to anything you choose.
min_gap - the minimum gap between the price of the selection you want to back on and the next favourite, in ticks. E.g. if 

min_gap

 is equal to 10, then if the favourite's price is 5.4, the bet will be placed only if the second favourite's odds are 6.8 or higher. This is done for preventing "jittering", when the are two close favourites and their positions are switched following a price change of just 1 tick.
If you have not heard of BetFair yet or do not have an account, register today and get £20 free. Use the link below:
Gamble responsibly! Always be aware that betting is NOT risk-free. You must be 18+ years old before you try gambling, but even as an adult, withhold from spending money in an ill-judged manner. Our company does not encourage you to prefer gambling over other meaningful activities. If gambling is affecting your life or the lives of people close to you, please contact
GamCare