Laying on horses with low official rating
Lay on the horse whose official rating is at least 20% lower than the top two ratings.
Right-click here to download the trigger file.
Official rating is a figure given to every horse after one of the following happens.
The horse wins a race

The horse loses 3 times and in at least one of these races the horse finishes in the first six positions. If it does not get a top six finish in the first three runs, then it must continue racing until it achieves a top six position before it receives an Official Rating.
The Official Rating is often abbreviated to OR. In MF Pro it can be displayed in market's full mode, if Horse Racing Silks are activated.
In theory, the higher the official rating, the better the horse. Every time the horse runs (no matter what type of race it is) its performance is assessed and the official rating may go up or down depending on how good or bad they ran.
The percentage difference between the rating of the horse to lay and the first two highest ratings is set in a trigger called "setting the percentage". In the example it is equal to 20, but you can change it to whatever you feel like.
Please note: the highest two ratings may be shared by several horses. However if there are two or more horses that qualify for laying, only one, with the lowest price, will be chosen.
Here is an example of how the triggers will perform: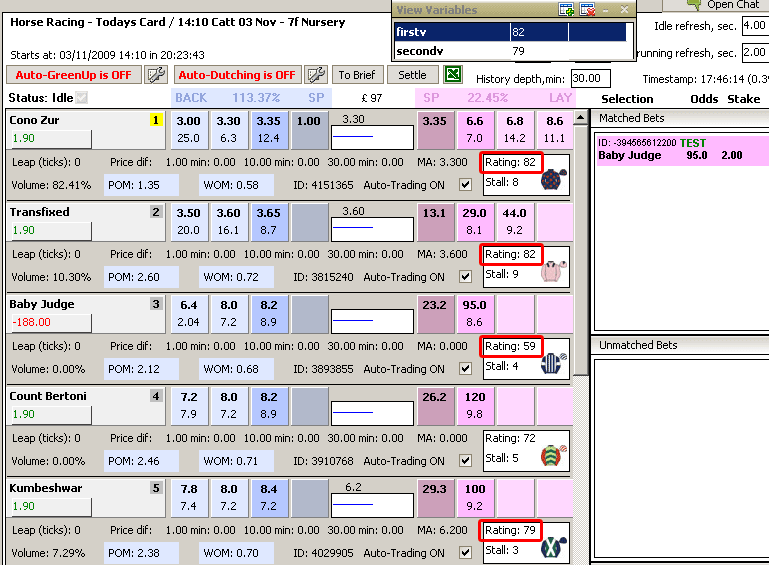 If you have not heard of BetFair yet or do not have an account, register today and get £20 free. Use the link below:
Gamble responsibly! Always be aware that betting is NOT risk-free. You must be 18+ years old before you try gambling, but even as an adult, withhold from spending money in an ill-judged manner. Our company does not encourage you to prefer gambling over other meaningful activities. If gambling is affecting your life or the lives of people close to you, please contact
GamCare